You can use this development kit to:
Evaluate Stratix 10 SoC device features and performance
Begin development of your hardware and software design
Use as a platform for target reference designs, OS/BSP, and tools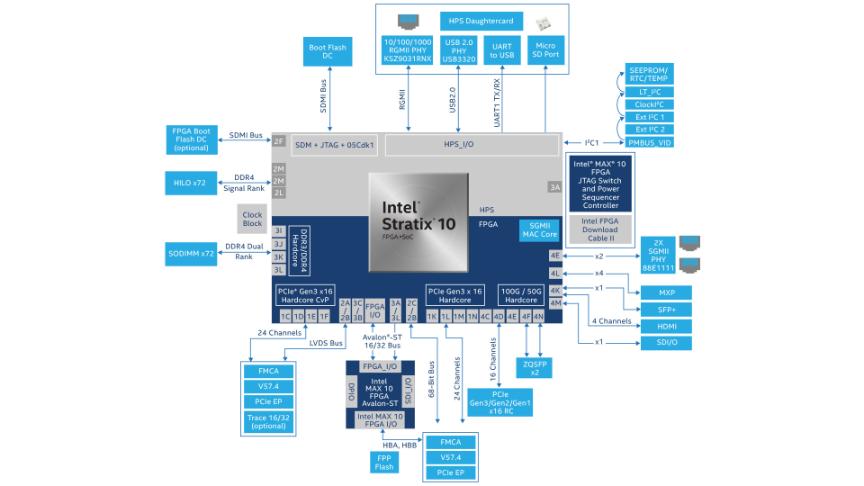 Hardware
Stratix 10 SX SoC Development Board

Review Table 1 for featured Stratix 10 device

One HiLo DDR4 memory card (4 GB)
One DDR4 SODIMM memory card (16GB dual rank)
Two HPS peripheral daughter cards (OOBE and NAND)
Two FMC loopback cards supporting transceiver, LVDS and single-ended I/Os
Two quad small-form-factor pluggable (QSFP28) and one SFP+ port
Two FMC+ low-pin count (LPC + 15 transceivers) connector
One SFP+ interface
PCIe x16 edge connector (via cable - not included)
AC adapter power cables
Ethernet and USB cables
Software1
Design examples
Board Update Portal design
Board Test System (BTS) design
Documentation
Stratix 10 SX SoC Development Kit User Guide
Board design files
Design software2
Quartus Prime software (required)
Nios® II processor (optional)
MegaCore® intellectual property (IP) library (optional)
Mentor Graphics® ModelSim®-Intel software (optional)
Download and unzip Stratix 10 SoC Development Kit installer first. Install the Stratix 10 SoC Board Test System.
A one-year license for Quartus® Prime design software is available upon purchase of the kit. License activation instructions and FAQs .