Download
Documents
| 標題 | 版本 | 大小 | 日期 | 下載 |
| --- | --- | --- | --- | --- |
| TR4 User Manual | 2.1 | 11,221(KB) | 2021-01-26 | |
| Using the Design Security Feature in TR4 | 1.0 | 1,603(KB) | 2014-06-06 | |
Daughter Card Demonstrations
| 標題 | 版本 | 大小 | 日期 | 下載 |
| --- | --- | --- | --- | --- |
| NET | | | 2012-08-10 | |
| ADA | | | 2012-07-16 | |
| AHA | | | 2012-07-16 | |
| D5M | | | 2012-07-16 | |
| DCC | | | 2012-07-16 | |
| HDMI | | | 2012-07-16 | |
| ICB | | | 2012-07-16 | |
| MTL | | | 2012-07-16 | |
| MTLC | | | 2012-07-16 | |
| SATA | | | 2012-07-16 | |
| SDI | | | 2012-07-16 | |
| XTS | | | 2012-07-16 | |
| DVI | | | 2012-07-16 | |
CD-ROM
| 標題 | 版本 | 大小 | 日期 | 下載 |
| --- | --- | --- | --- | --- |
| TR4 CD-ROM | 1.2.1 | | 2022-07-19 | |
| TR4 System Builder | 1.1.0 | | 2017-02-06 | |
Download Intel® Quartus® Prime Software
The TR4 requires Quartus II Standard Edition Software to support the Stratix IV GX device.
Please contact us for download information: support@terasic.com
TR4 Tools
TR4 Control Panel – allows users to access various components on the TR4 board from a host computer.
TR4 Control Panel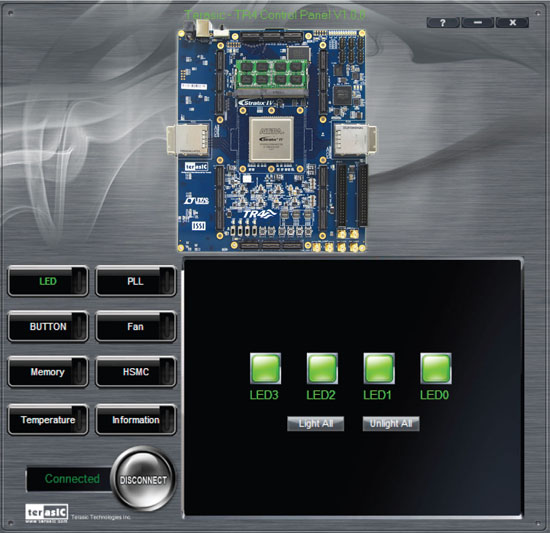 TR4 System Builder – a powerful tool comes with the TR4 board. This tool will allow users to create a Quartus II project file on their custom design for the TR4 board. The top-level design file, pin assignments, and I/O standard settings for the TR4 board will be generated automatically by the TR4 System Builder. In addition, through the HSMC connectors you can select various daughter cards in conjunction with the TR4 using the TR4 System Builder.
TR4 System Builder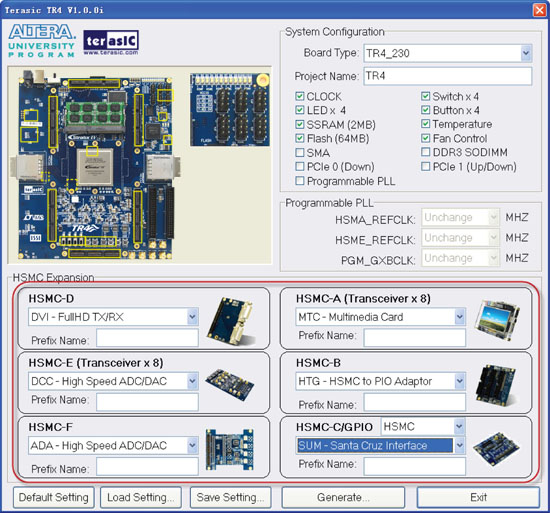 The generated Quartus II project files include the following:
Quartus II Project File (.qpf)
Quartus II Setting File (.qsf)
Top-Level Design File (.v)
External PLL Contorller (.v)
Synopsis Design Constraints file (.sdc)
Pin Assignment Document (.htm)
TR4 Reference Designs
Breathing LEDs
External Clock Generator
High Speed Mezzanine Card Connector Test
DDR3 Nios II Read/Write Loopback Test
DDR3 HDL Read/Write Test